High-end suites in Glyfada
A contemporary urban oasis in the very heart of the city.
Residing just 500 meters from Glyfada's center and a brief drive away from Dots, Astir or Krabo beach spots, Ogarden Suites make for the ideal accommodation in town. The suites are fully equipped, including everything from designer decor to bath amenities and beyond for your utmost comfort. 
Making your stay as enjoyable and comfortable as possible lies at the forefront of the mission of Ogarden Suites. No matter if you are looking for a short- or long-term stay or traveling solo or accompanied by your partner or family, we cater to every need and appreciate open communication.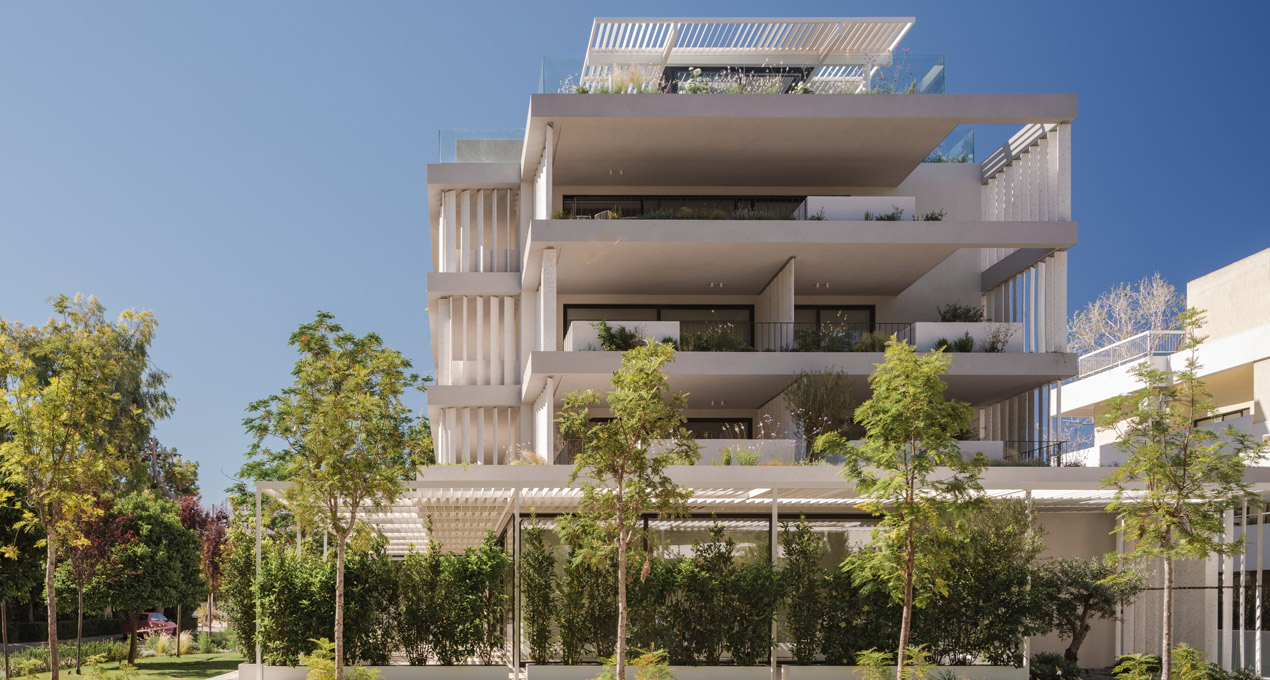 Reflecting an elevated architectural novelty, the Ogarden Suites are one-of-a-kind. 
Surrounded by a revitalizing garden with a private jacuzzi, it is a true urban oasis.
The outdoor blind elements are made from a new concrete technology that serves for privacy and shading purposes - giving a gorgeous mosaic result of sculptural value. Feel at ease and truly at home in Ogarden Suites.
Get smoothly accommodated in the optimally built and decorated spaces. Arrive anytime after the allocated check-in time, with the automated services designed for your optimum convenience. Plus, ask away any question to the chatbot, which will respond to any commonly-asked question during Non-Business hours. 
DISCOVER MORE
Experience the multiple facets of Glyfada
A jewel in the coveted Athens Riviera

Optimally located in the sought-after suburb of Glyfada, on the Athens Riviera, Ogarden Suites lie minutes away from the sea and the center, too. Internationally acknowledged as one of Greece's most alluring neighbourhoods, pick Glyfada for your long or short-term stay and enjoy its multiple perks.

An all-around destination

Enjoy living in one of the most upscale suburbs in Athens. Due to the immaculate beaches, pristine waters, and chic beach bars, which reside a brief car ride away, it is a popular destination that is filled with life and entertainment. Spend your time wining and dining at five-star restaurants and shop at high-end boutiques.

An area bursting with history and culture

Filled with past decades' energy, Glyfada was popular among the affluent Athenians and Hollywood stars in the 1960s and has starred in multiple films. The orthodox churches and ancient landmarks like Cape Sounion and the Temple of Poseidon are definitely at the top of the list of must-visit places along the coastline of the Athens Riviera. 
Amazing Suite
Amazing Suite! Can't possibly fault it! The whole experience was fantastic from the first contact until check-out. Beautifully furnished at a perfect location. Would definitely stay there again! Many thanks Ogarden!
Beautifully furnished
Beautifully furnished Suites! Smart and elegant decor. One-minute walk from the beach. The jacuzzi is very inviting. Quite neighborhood with a good selection of restaurants nearby. Would definitely stay again!
Amazing property
Amazing property. Brilliant staff. Great location. Will certainly stay there every time visiting Athens. Bravo!